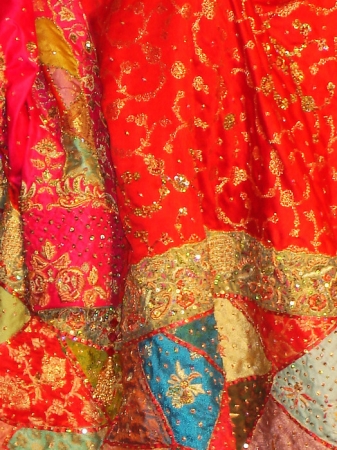 Indian embroidery dates back to the times when the pieces of fabric sewn together by hand, and continues its development thanks to modern machine embroidery. Samples of unique embroidery in India emerged due to the rich history of this country. Blanket stitch or buttonhole, cross-stitch, satin stitch, running stitch, chain stitch - it's part of the basic techniques, common in Indian embroidery. In the industrial age, the most common embroidery machine becomes, however, manual crafts, and today does not cease to exist.
Distinguish a lot of different techniques of creating embroidery, for example, can be sewn thread on the surface of the fabric, but you can through the fabric, so as to obtain a "mirror image". Another kind of classification refers to the cross-stitch. Since the 19th century originated satin stitch wool.
embroidery to the people of India is a special kind of needlework.It expresses the depth and richness of the national culture.Embroidered clothing is most often used for special outlets and special occasions. Shades of thread are designed to display the time in which was embroidered clothing and a place where it produced and where they brought.
One of the most common styles of embroidery in India is a style Zardozi (means "gold embroidery"), which exists since the time of the reign of Emperor Akbar . In the style of Zardozi amazing patterns are created using gold and silver threads, as well as precious stones. About gems you can learn more at pro-kamni.ru. Here you will also find a lot of interesting and useful information, from the stories of unusual products with aquamarine, and finishing tips for the care of precious stones.
Zardozi embroidery was used to decorate clothing, shoes, interior curtains for elephants, etc. And to this day in India Zardozi embroidery is used to create a chic outfit and every fashionista wants to get embroidered sarees in her wardrobe. Kantha Indian embroidery products with embroidery - Kantha stitch distinguished elegance and finesse.Almost the entire surface is filled with very fine kantha hand stitch "forward needle" that Bengali women are called "running". There were many special stitches. Some traditional kantha stitches resemble a zigzag stitch on the sewing machine. Sutures were placed in a different order: in the form of arrays of lines or undulating lines echo loop around the main figure, etc. Surface while taking gentle - rippled appearance. This work is very time-consuming. To make one Nakshi kantha (quilt) took several months to several years of painstaking work. Therefore, these products are highly appreciated in Bengali families and passed down from generation to generation. Traditionally embroidery was done on a light or white background. Motives for Kantha varied. But the main central figure was frequently a flower - lotus. A framed his designs, which are now called "paisley" or "cucumber". On a perimeter drawings depicting various animals, trees, leaves or flowers. Kantha embroidery is used to decorate products and modern Indian and Bengali craftswomen.But nowadays there are new elements. In addition to the stitches in the works is often added applique. Sometimes dense stitching several rows surround drawings on printed fabric. Kantha - a visual ode to the ancient skill and thrift indianok.V manufacture Fine embroidered capes recently took the Indian sari dress ... Yes, the Indian used fabric of worn dress, embroidering old thread learned from other sari.Sekret these works have a particular subtlety that fabric, bonded many threads, became strong and durable, and pleasing to the eye then a long vremya.Chasche all, in the center of the product, a decorated Indian kantha embroidery, wearing the royal lotus. Soon Indian embroidered kantha entrenched Association pererozhdeniya.Beremennye women spent the last trimester of pregnancy to create Nakshi Kantha (blanket) for a newborn, believing that wrap the baby in a blanket - is the key to happiness in the family and the protection of the child from bolezney.Traditsionno kantha never were not intended for sale - they were made ​​either as a gift or for personal use. reaped (Jali), embroidery is a technique similar to the frayed, but the thread is not pulled out of the tissue and gently razvigayutsya and fixed small loopy stitch seam, so it turns elegant grid or pattern of holes, something reminiscent of the frayed or Hardanger. Indian embroidery Shisha Shisha - kind of Indian embroidery, deserves special attention because it itself is original and unusual. "highlight" of Indian embroidery "shisha" are small pieces of mirrors, trimmed with embroidery and sparkling under the sun luchami.Zerkala in embroidery began using wife of Shah Jahan. But even in ancient times, this technique has been employed poor who are using mica achieved the same effect glitter fabric as the rich, whose clothes were embroidered with gold and silver threads.However, the only disadvantage of mica - its fragility and transience. Embroidery Chikankari. Greek historian and traveler Megasthenes writes that chinkara embroidery originated from East Bengal, he mentions the flower embroidery on fine muslin in the notes that relate to the 3 century of our ery.Mastera believe chikankari that appeared in the days of the Prophet. It is believed that in his travels one of the prophets passed through a village and asked for water from a farmer. offered a reward for him water, he gave art Chikankari poor peasant to an art to get rid of goloda.Kakovo Whatever the origins of this embroidery, the complexity of its pattern resembles the finest marble carving Today, in addition to white muslin length Chikankari used other delicate fabrics. 's wife of Emperor Jahangir skillfully embroidered floral motifs, extending this activity everywhere. fabrics are embroidered chikankari can flaunt lotus, jasmine, mango, rose, or original intertwining flower stems.