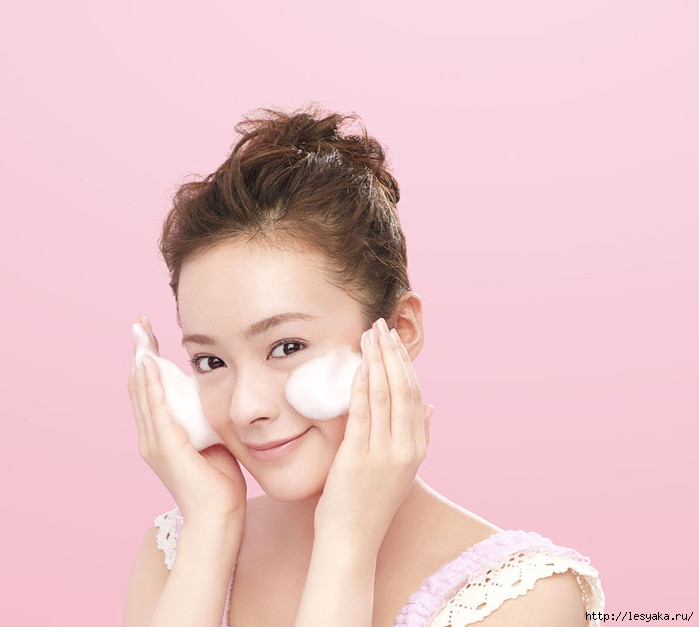 For deep cleansing facial and painless need not scrub, namely foam, Japanese women have long known this, and spend their methodology washing in 2 stages.
You will need: a hydrophilic oil (can be normal baseline), net for whipping foam soap.
Before the procedure is necessary to remove make-up, if any.
* Stage 1.
On a dry face apply oil. 0.5 tsp. Base oil (olive, grape seed, mustard, flax, etc.), it Put 1-2 drops of essential oil.
Apply the oil light massage and leave for 1-2 minutes. The oil softens the skin and dissolves some of pollution and nourishes the skin. You can make a light facial massage.
* Stage 2.
Take the soap (preferably with silk, aloe and shea butter), and a good a blowing wool-mesh (Japanese women use a special washcloth called avadama).
The blowing soap to form a very thick foam (the smaller the bubbles, the greater will be facial cleansing). Foam resembles shaving foam.
Apply foam gently all over the face, not the three skin, and do not touch the face hands, but only lightly presses down on the top layer of foam: as it penetrates deep into the pores and remove any dirt.
If the skin is too oily, you must hold the foam on the face for 2-3 minutes, then rinse with warm water.
Better to use a Japanese washing evening. The skin is cleansed almost "squeaky" when it is clear how much better and faster after such a cleansing soak used creams and masks.