Autumn - it's time to wear accessories in green and gold tones, as the foliage of the trees in September.
And today we will weave Chainlink necklace.
Chainlink weaving it strictly and brutal? Not at all, if you add beads! I'll show you how it's done in a necklace "September", and also tell you about other ways. This workshop explains the general principles and makes us work fantasy.
So we need:
- Copper and brass wire diameter of 0.8 mm.
- Couple tonkogubtsev (preferably without threads or with insulated thread)
- Wire cutters, leaving one side perfectly straight cut
- Brass or copper pins
- Clasp for Necklace
- Two crochet hook or knitting needles of different diameter (I have 4 mm and 5 mm)
- Beads (not round) and beads of different shapes and sizes.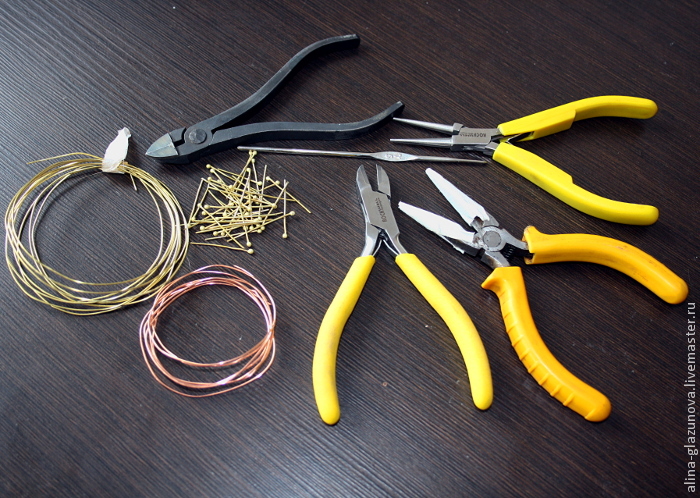 How to make lots and lots of wire rings and weave of these chain-mail basis, I already told in the previous workshops. I'm afraid if I repeat here to limits signs and your patience. So
look here >>
This time, instead of a collar, we must get the basics under necklace. Here's a: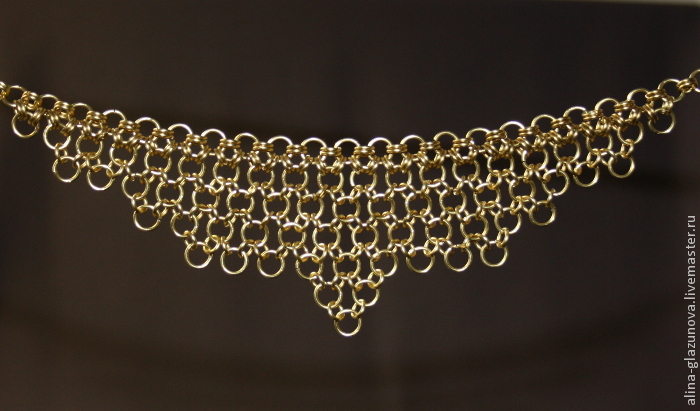 Note that unlike the previous time, two small ringlet used only in the first row. From the second and then cling to each large on two small instead of four.
But the longer we go the fun. In principle, the idea ponavesit beads chain-mail on the basis of nothing new. Usually it is only the most simple beads or stone chippings, chaotically hung on pines. We now will use beads of different shapes than circular and small beads.
When I start working, I immediately pours out a little different beads suitable colors. I do not know which one I will use in the end, and what is not. I enclose a colored glass pieces to each other and to the base and see what happens. Magical process. Bewitching.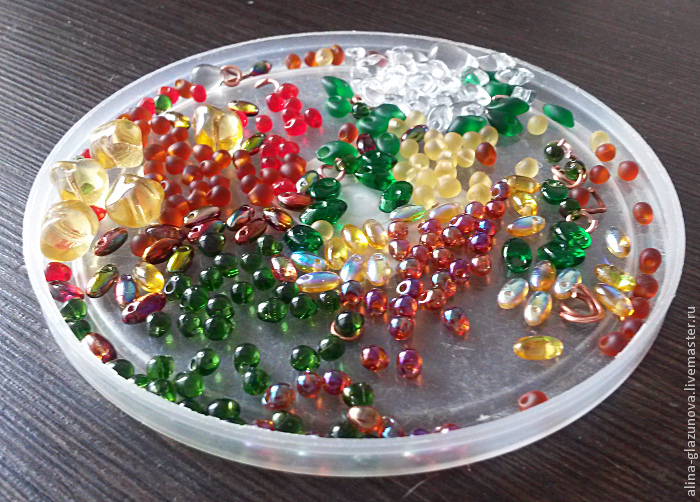 To start a foothold on several ringlets on the bottom row beads on pines. This time - Czech glass beads.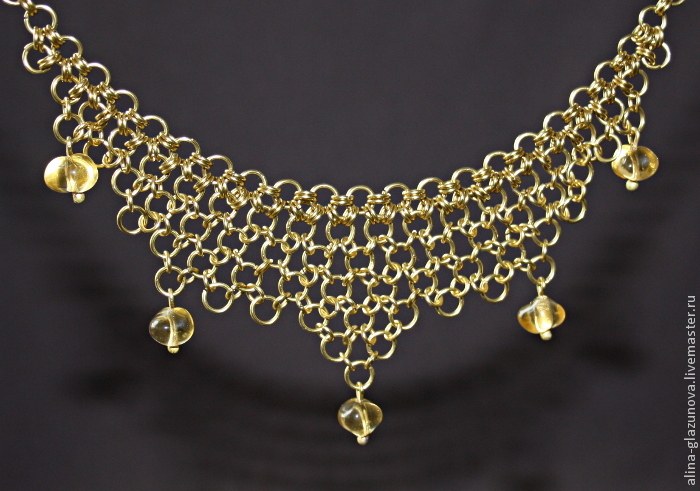 And then begin to fill the remaining rows of different configurations of beads and beads.
It's time to tell us what kind of beads and how to mount. And where - show below.
The method first . Japanese seed beads Miykiu Long Magatama. Mounted on one small ring.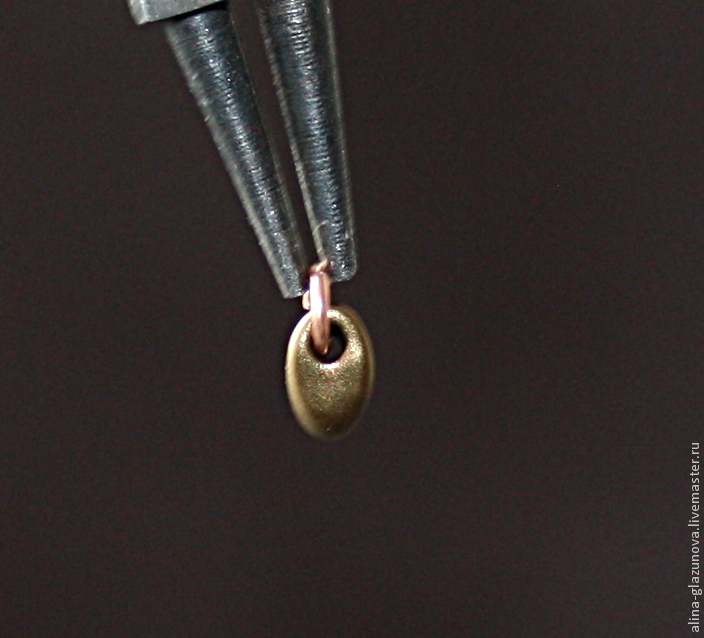 It turns out like this: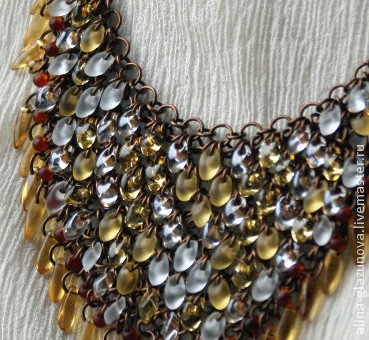 Methods of the second and third once. Drops Czech beads and Czech teardrop beads. Both are mounted on one ring, the large or small, depending on the size of the beads.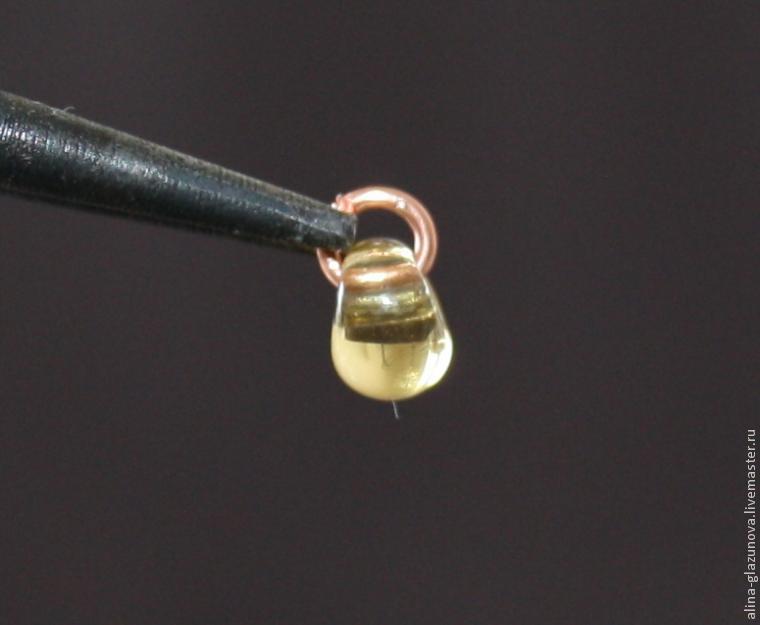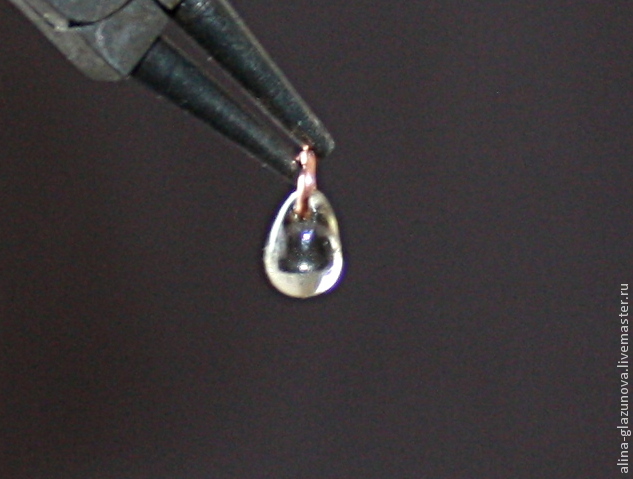 Both methods are presented here: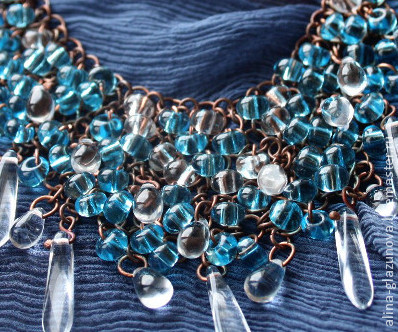 Method fourth . Miyuki Long Magatama and Miyuki Drops. Fasten a little more complicated - the large ring worn magatama-Dropsie-magatama, and this bunch with another bead Dropsie clings to a small ring. Like this: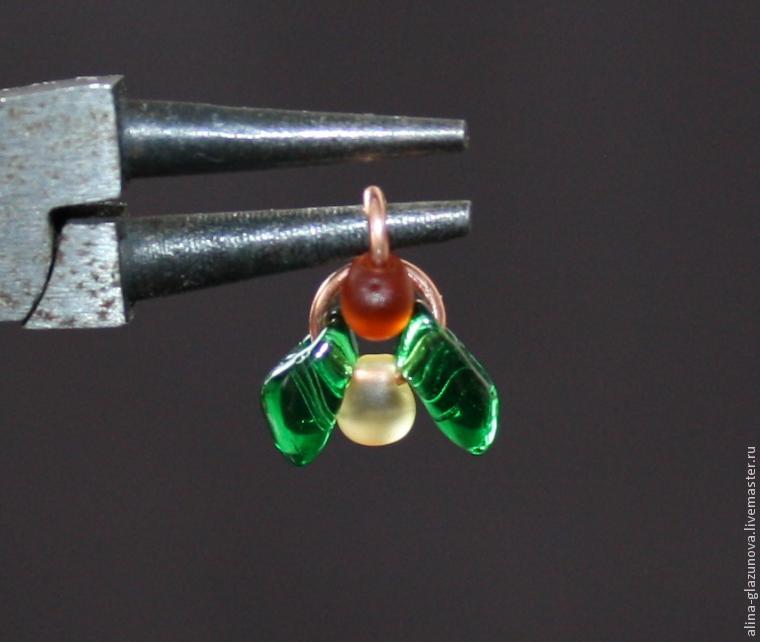 And it looks like this: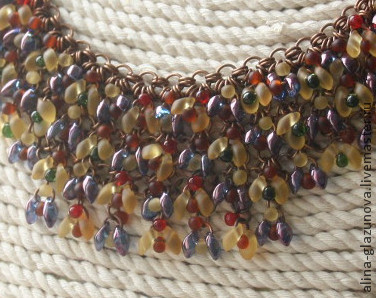 Method fifth. Miyuki Drops Czech and Riso. Similarly to the above - Rizo Rizo-Dropsie-in a bunch on the big ring and hang on a little with another Dropsie.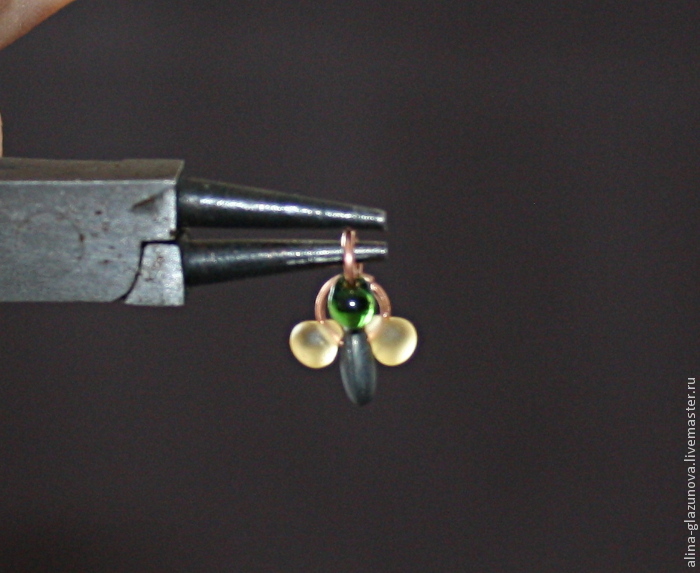 This method can be seen here: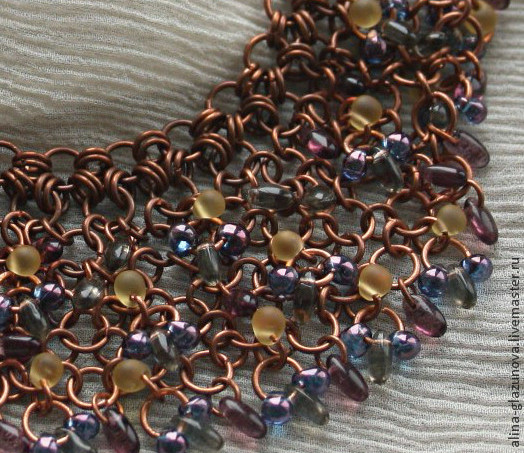 Method sixth. Miyuki Long Magatama, Miyuki Drops Czech and Riso. Fastened in a bundle on a large ring magatama-Rizo-magatama, and with beads Dropsie - to small.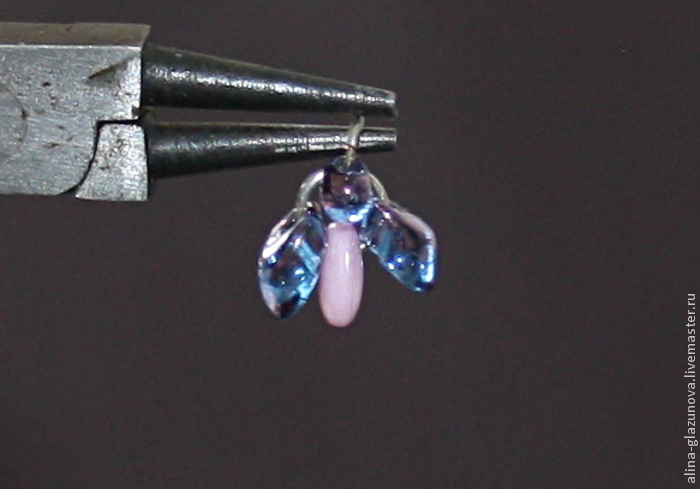 The result is this: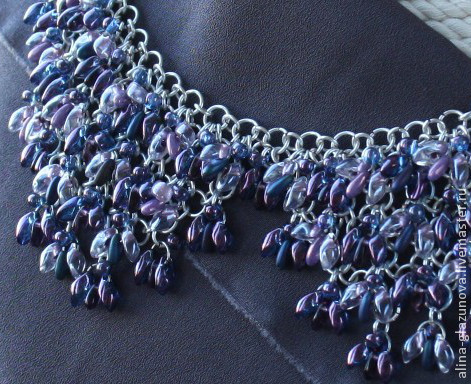 Method seventh. Miyuki Drops and Long Magatama. Here in the large ring attached two magatama, looking in different directions. Suspended, as always on a small ring with beads Dropsie.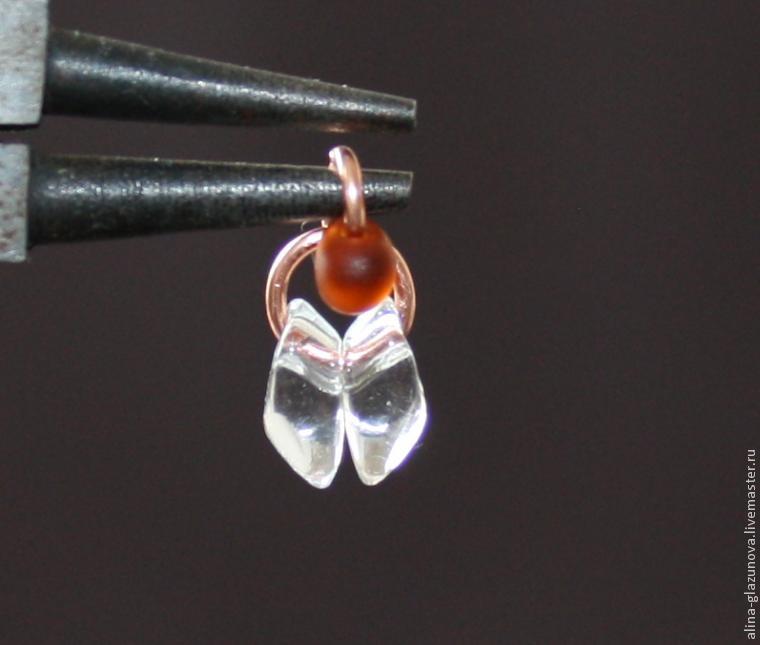 It is this way, together with the fifth, sixth and second bit we will use today. In the photo below the marked places in the chain-mail-based, where the beads are attached or bundles for small rings. And also can be seen exactly where I used five or six ways.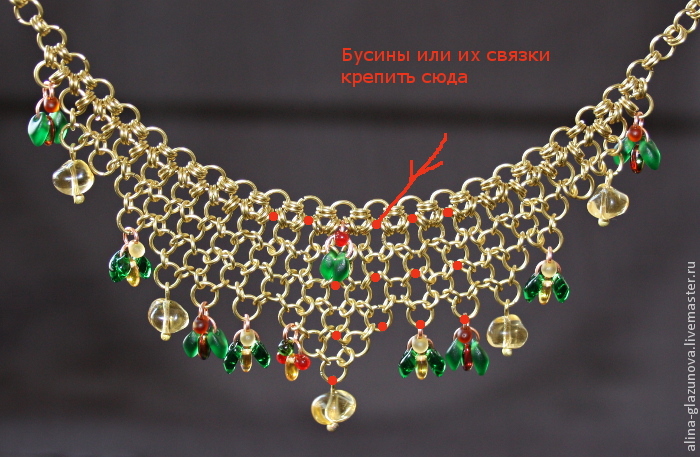 Just in case - here's a picture of such a ligament laterally - here you can see how it hold before attaching.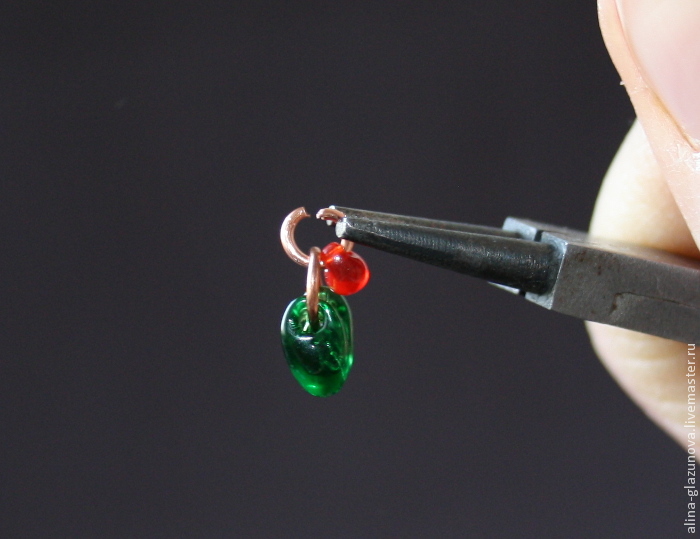 Eventually we must have here is a canvas. Find where I used the method number 2? =)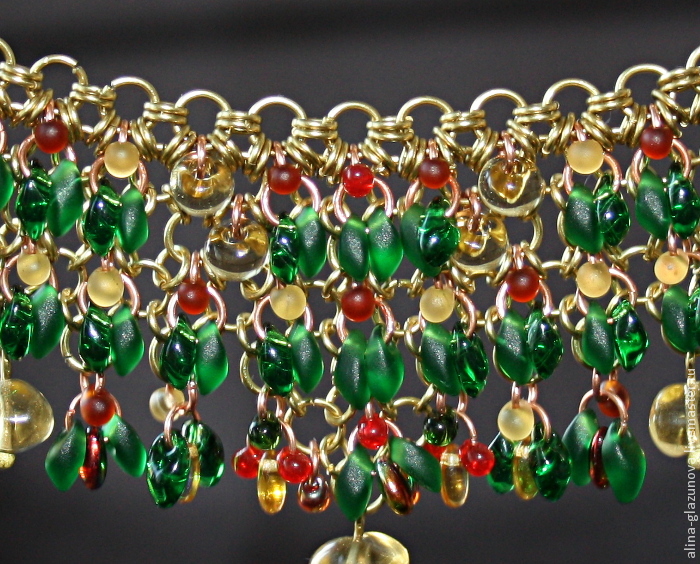 And the entire appearance, which, as seen in Scheme entire layout and the color.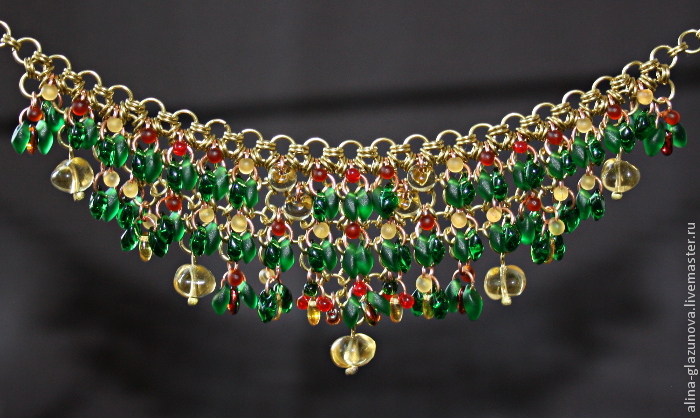 And a couple of photos of what happened in the end.