Today we invite you to get acquainted with the extraordinary personality, talented, cheerful, strong spirit skilled worker, won a difficult material - glass. From this charming Elena Miller creates unique jewelry and home furnishings, pleasing lovers of unique works.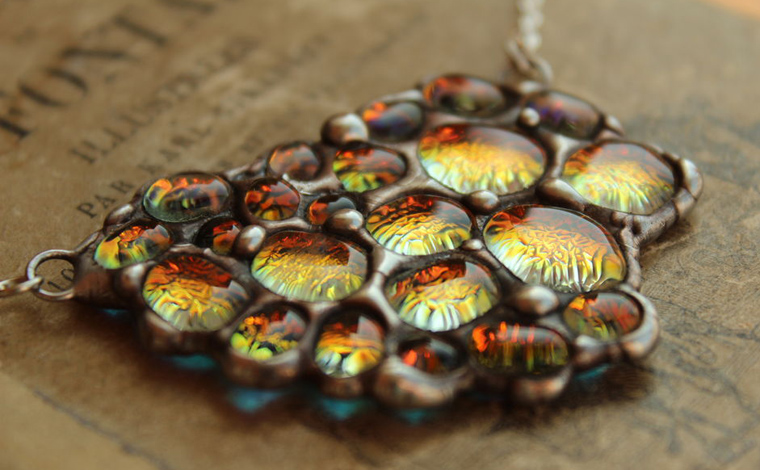 - Helen, tell us about your creative way, what is your education, what kinds of art you like to do?
- In the beginning, I must say that my mother was a child diagnosed - laziness born ahead of me. This explains some passive in my life.
I loved to draw since birth, probably. Tried to go to the art studio, but there in fact need to regularly walk, and I could make myself master only the first couple of sessions, and then saunter. Well I can not, when the force! Always loved to draw unplanned.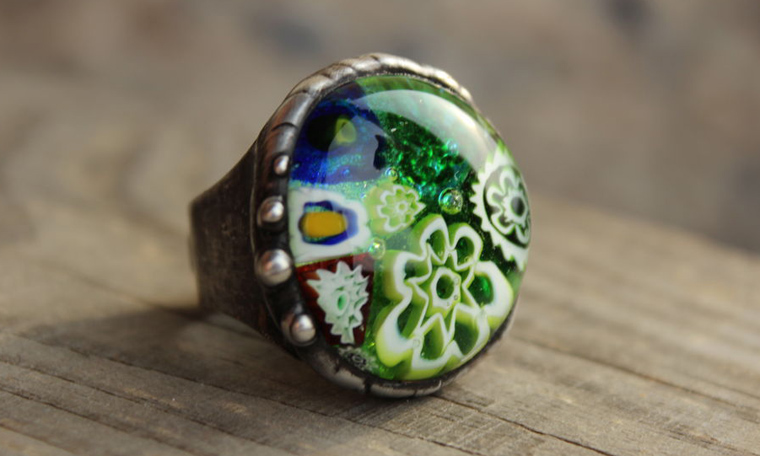 Then I had no idea that you can become a professional artist. And after school, I went to study at the hairdresser after girlfriend. After graduating from college, do not work in the profession. Because she married, had a son and had to work in a kindergarten. Here's where the fun begins.
My great-grandmother said, "Go and learn more" and took me to the university. I attended a preparatory school, worked in the same artist's model (no nudity) and a year later was admitted. She studied, worked and raised a child, it was difficult. And now I am a teacher of drawing and sketching, a graduate of the Institute NGPU art-graphic faculty.
Deals with all gradually - batik, also liked ceramics, painting. Grandfather made me easel - impossibly huge Mahina. This was before high school. I did not know all the laws and draw, as seen, not as known. Even before the Institute, I met with the artist and tattooist Mark. He tried to convince me that I have to go to university. Something tells when I was preparing for entrance exams.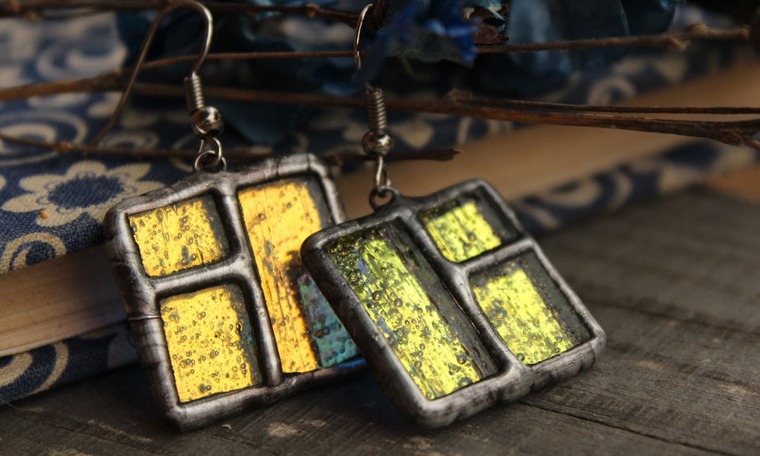 - And how did you start working with glass?
- In glaziers I hit accidentally - friends have attached. Not work well for life in the garden!
By the way, from the ridiculous: once the head of the kindergarten me, "Dye baseboards in the hallway, you're an artist."
Came to the interview in the stained glass workshop. Took on probation, as not representing a "girl" in the role of the glazier. So I settled down there. From the first second I fell in love with fusing - oh, these sleek glass, a true miracle! All the time I worked with fusing. By Tiffany did not let him.
But the coursework, I still made ​​the stained glass.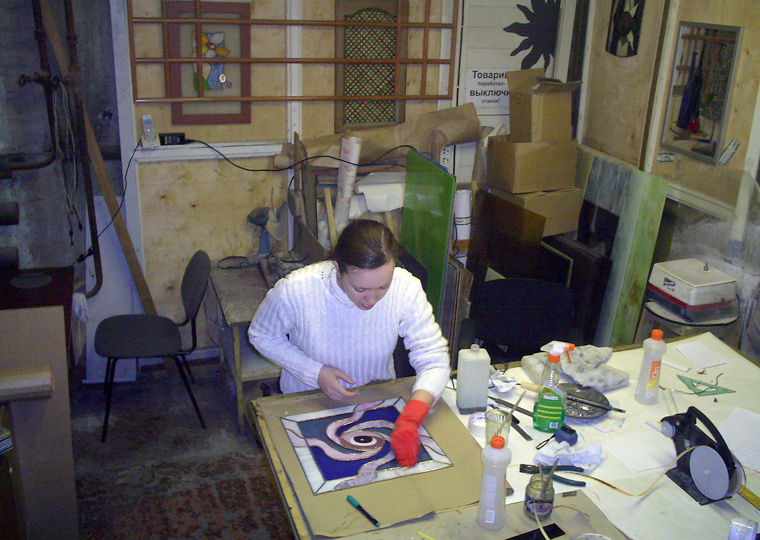 Left: The course work hours. Right: thesis - insertion into the window "Cosmos"


Then I got fired. I became very self, and my boss did not like this. CREATOR could only be he! But good people are much more common than such "enemies."
Then, in 2008, I went to St. Petersburg and married.
I wanted to get in the glass workshop, but during the crisis will not take. And would it work with glass. Back in Novosibirsk I knew that I would own workshop. Here's a crisis and she began to emerge. Tiny room and homemade stove in installments ...

- Where are you now engaged in the creation of jewelry, because the problematic contain apartment oven and grinding machines?
- Now I have a studio at home. But we have it already folded and transported. Previously rented premises always.
This is the first workshop. Where it all began: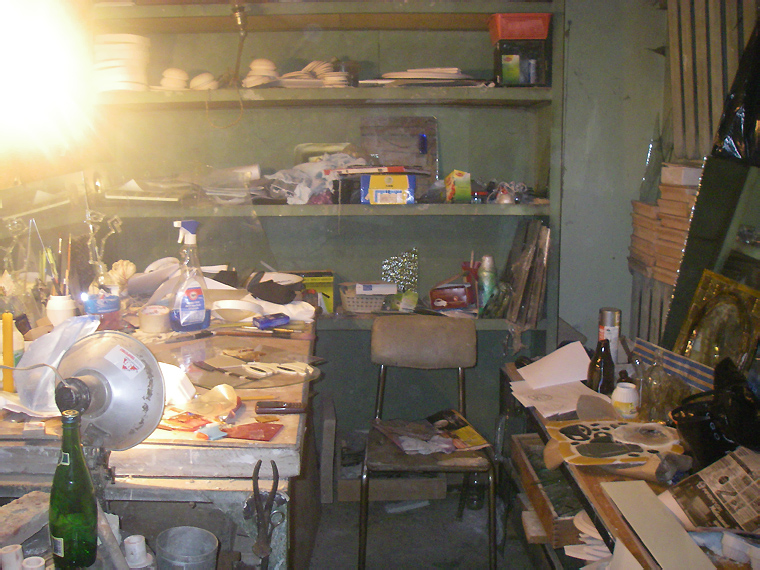 This is the second workshop. There was very cold dereveneli fingers from the cold and it was hard work: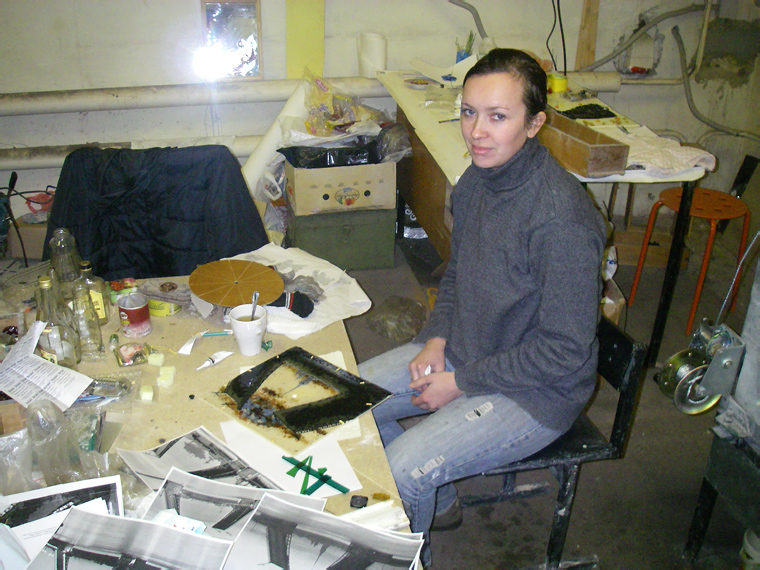 Here is one of our "ordeal" - crossings. This is the third workshop.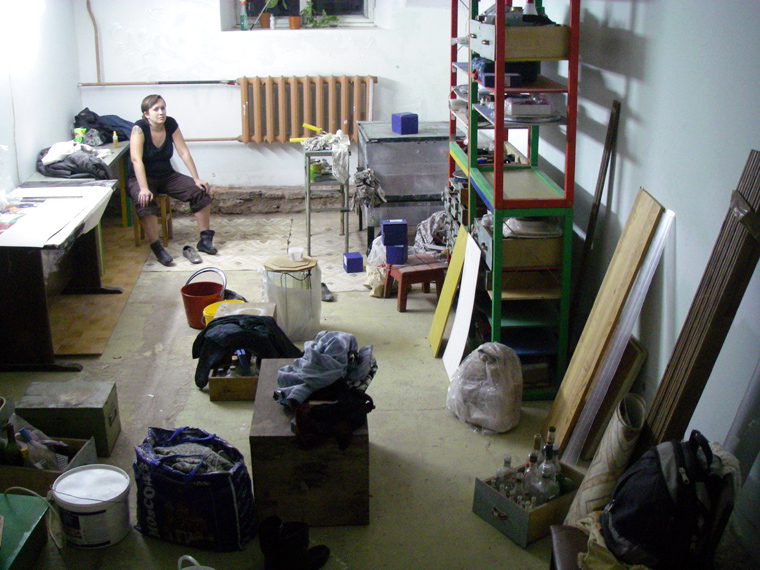 But eventually moved out of town and had a studio at home. It was convenient. The stove runs on 220.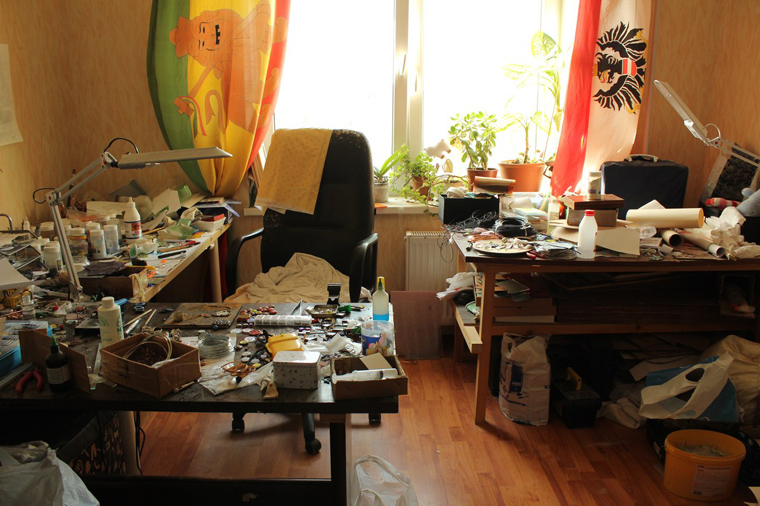 But now I'm home and do not like. All my life - work. Every free minute I spend in the studio. Always there is a question: to cook a delicious lunch or buy dumplings and work; wash floors or work. From this charter. Everything was decided by itself. We bought a large furnace for fusing. Home not to drag her and we decided to again build a studio in the city. Now I will strictly monitor their regime. Working day and taking care of the house - all at one time.
- You create a variety of products - from jewelry to large stained-glass windows. And if to ornaments suitable word "minimalism", what are the motives and themes you like to play in the stained glass?
- stained glass work I have not very much. Frankly, very little! And they are all custom made, drawing on request. But I'm still trying to complicate that was fun to do. Such works more desirable. But this is a very big responsibility, and therefore a little scary! Again, a lot of work done to order for a specific interior. Since when do nothing, then sell hard. I often say, "When go over a lot of work? How much can you make the earrings? "I do not know ... these customers need to find somehow. Working on it.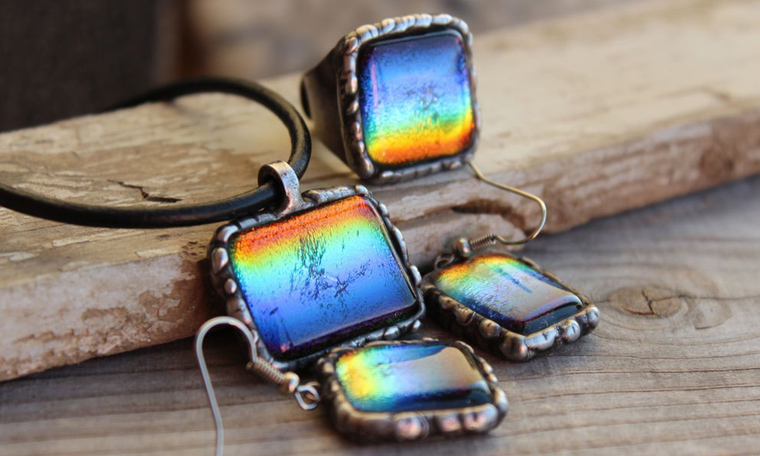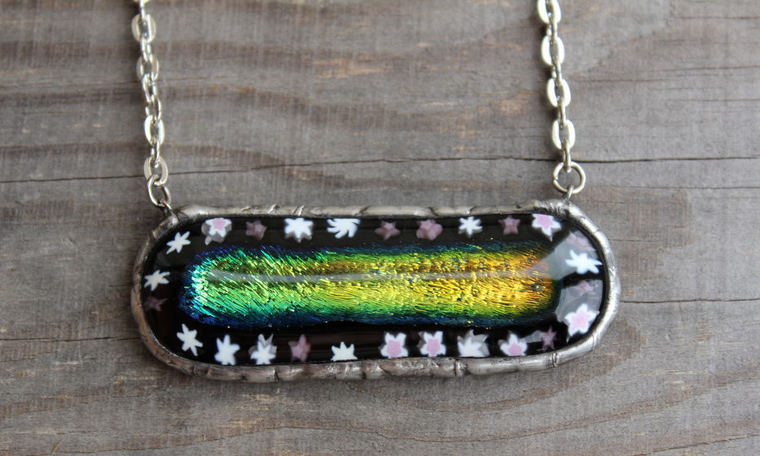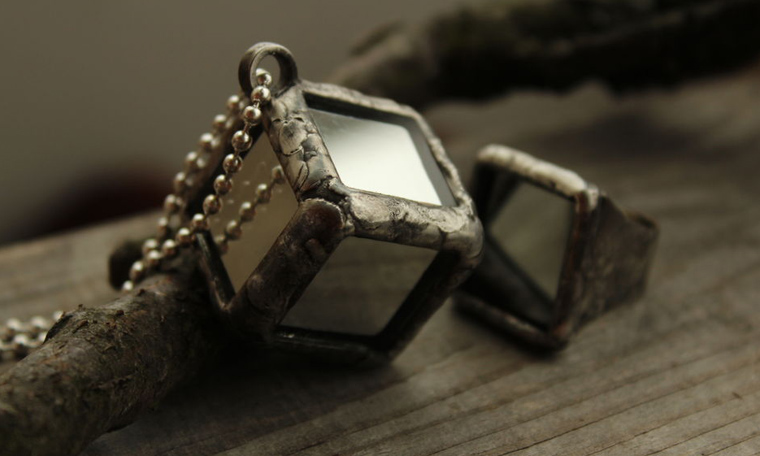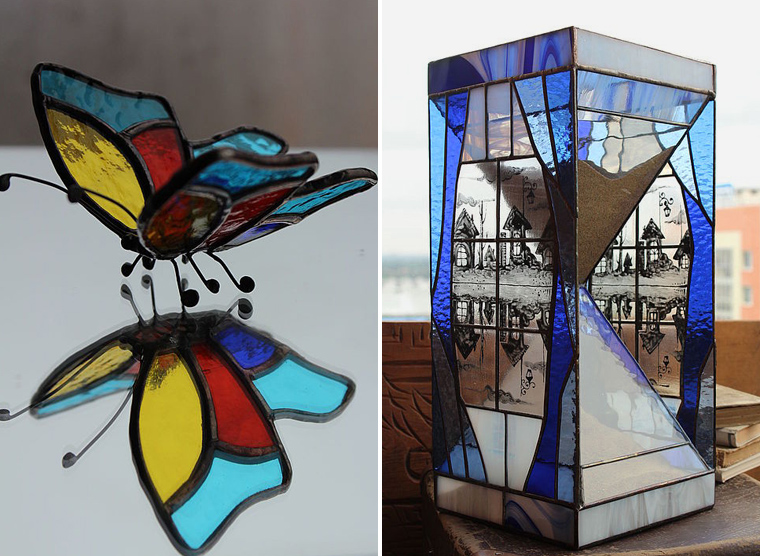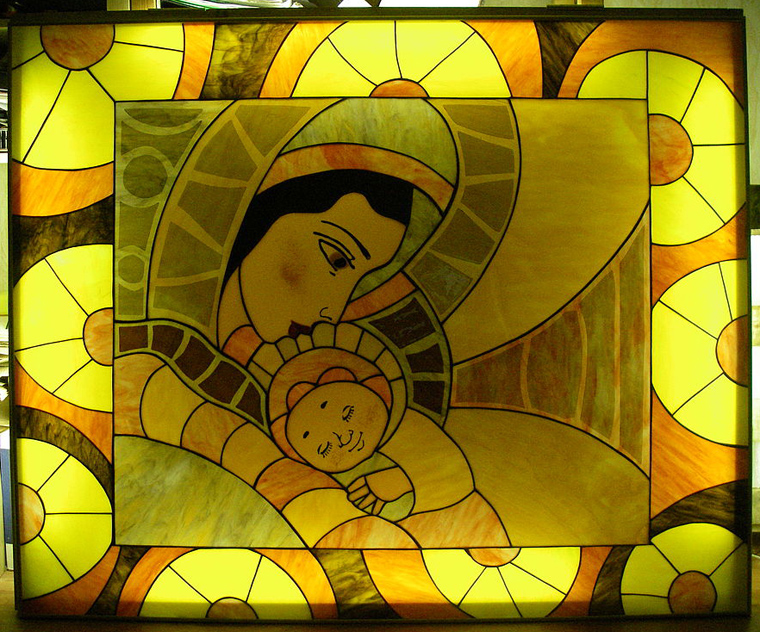 - In one of your master classes we watched the fascinating process of "molding" of glass from the glass dust. How and why you started to create their own glass?
- Actually, this is the old way, which is known glaziers. I saw in the shop stained fluid modeling of the glass powder. Bought it, loved it! Now I want to do something big this way. This modeling allows to get up with the glass much more than with conventional glass cutter and sheet glass.
I love to experiment and watch the novelties in the world of glass, it is possible to learn the secrets and old masters.


- Working with glass and a soldering iron - surely an ordeal for the delicate skin of female hands. Do you have your caring recipes?
- I did not take care. Rough skin on the fingers, like a guitarist. Nails can not retain more than at night - in the morning all the grinding machine grinds. When payayu, wear gloves to tin does not roll into the palm or on the knees. Rezhus always. Because hurry. Here it is possible to classify the cuts: simple (they do not bother), long-lasting (long time to heal in the wrong place, for example, on the pillows of fingers) and nasty (boljuchih, deep, are remembered for a long time). Most of all I am afraid to drive the glass under the nails.

- Tell us about the "magic" dichroic coating, which references are often found in the description of your work. What is its feature that it gives the product?
- With this glass, I met in childhood. This coating makes my dad, working in one of the institutes of Novosibirsk Akademgorodok. He is constantly bringing home discarded lens coating. And in the sideboard of my mother's crystal adorned these gizmos.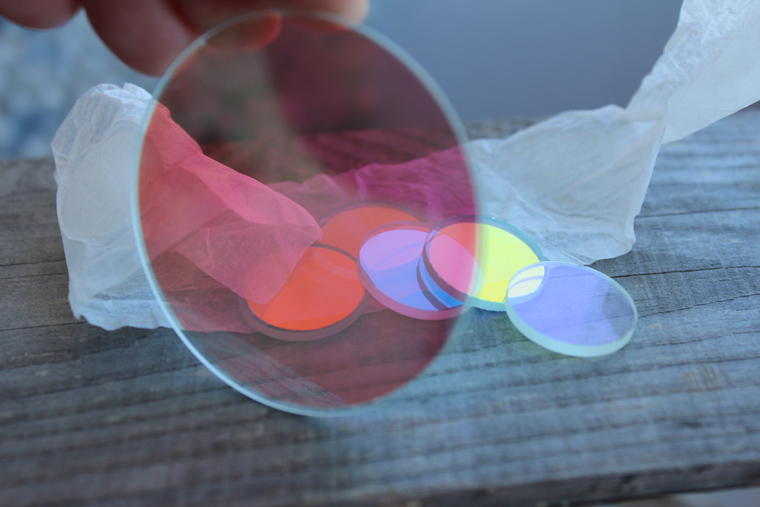 In
this
my article you can learn more about dichroic glass, and
here
to take a virtual tour of the lab.
Glass coated with - a special highlight for the product. Thing shimmers, changes color depending on the background and the lighting angle.
Here's a photo for comparison: with dihroikom (2014) and without (2008):

This may be more of: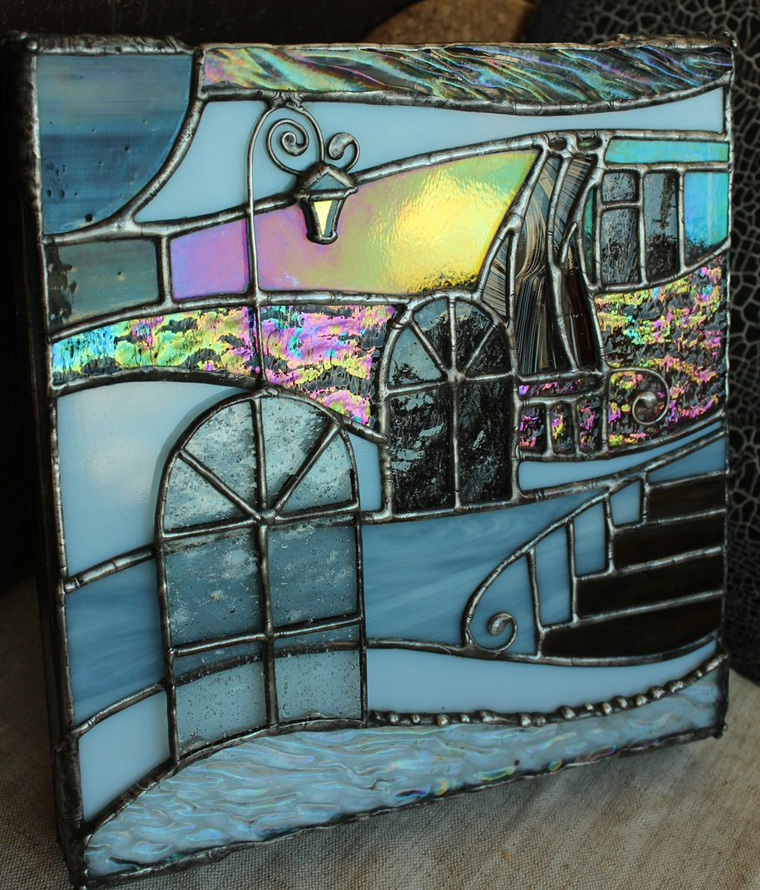 - As with other masters of creative directions, in your everyday life there is an interesting term. Tell us about some of them! What, for example, means "comb glass"? :)
- never thought of feature terms. It seems that everything is simple :)
Comb glass. I do it like this: take shape in the oven trim to a certain color scheme. Furnace heated to 1000 degrees, and open the whole stirred metal grabelkami. Time for Sanchez have less than a minute until the temperature drops to a critical level. Locked, the temperature again catch up to 1000, and again "Scale". So the circle. The stocks for future product.

I prefer any specific words. I do not know whether they can be attributed to the professional terms. But here's the example:
"Transp" - transparent glass.
"Plastics" - opal, opaque glass.
"Zag-zagi" - Clippers glass in the form of two cutting rollers.
"Metallovata" - thin metal fibers like wool. For grinding.
"Sandblasting" - a machine for grinding glass with a jet of sand.
"Millefiori" - round glass with a pattern inside. For jobs in the style of Murano.
"Chips" - the thinnest glass decorating baked surface of the glass.
"stringers" - to decorate the surface during baking.
- Probably the most important recognition - a recognition of colleagues. Recently, a master of fusing Gorbach Lily became the owner of your ring "Window to the magical world." What did you feel receiving this order?
- I was glad that Lily wanted this ring !!! I am even proud of! It is sometimes commented some of my most interesting work. In my opinion, it's great when glaziers are friends, support each other. Previously, I had a different opinion. Believe that we need to keep their inner secrets, etc. But I was persuaded. I think now that it is necessary to develop a glass case in Russia. And how to do it without communicating, and sitting "surly" in his studio? Lily has sent me a present two papers. They were the beginning of my collection of glass other masters.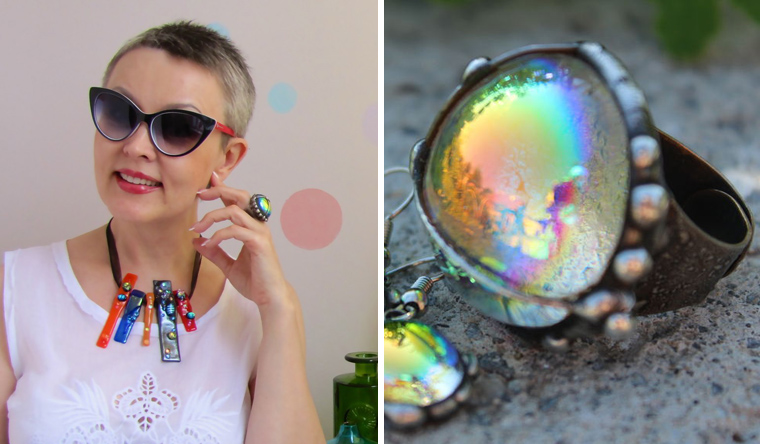 - How often have themselves become the purchaser at the Fair Masters? What shopping Remember Me?
- At the Fair Masters I rarely buy. Is that hardware. While I can not indulge myself such purchases - all funds are invested in the workshop. But I like to change. I have lots of toys to the Fair. So I got a cool bag, ceramic sheet - as a living! And I had a friend -
Irina Orlova
. We made ​​friends with her ​​here. I did it for hours on the grounds that she felt the cabins, and it is for me as a house-lamp. Now we're friends and we go to the "Mariinsky" and a bath on Tuesdays.
Still love some watercolor artists. I'd like to buy them.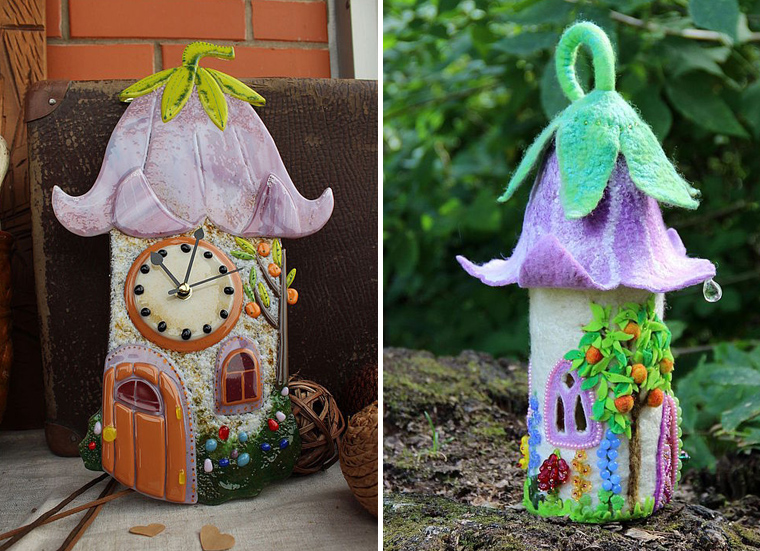 Want more say about Fair Masters. Very grateful to the site. I registered for a long time, but first, do not attach importance to this shop and not developed. But at some point, I received an order placed with my three jobs. This gave a start. Began to read the article: tips, advice. Studied with other masters. I really wanted a bright store, like Lilies Gorbach. But then I got carried away in another steppe. Fair for me - the main platform for online sales, and thank you for this opportunity to the Fair!
- How many in your personal jewelry box? Do you wear jewelry only its production?
- I do not wear jewelry almost. Outwardly I most usual. If you meet me on the street, and it is not clear that the creative person I am. Very rarely something don to walk around the city, St. Petersburg charge mood. And then sell it, do not leave yourself. It's like a test that decoration durable and will not fall apart :)
But I have a lot of boxes. Empty. Or with rubbish.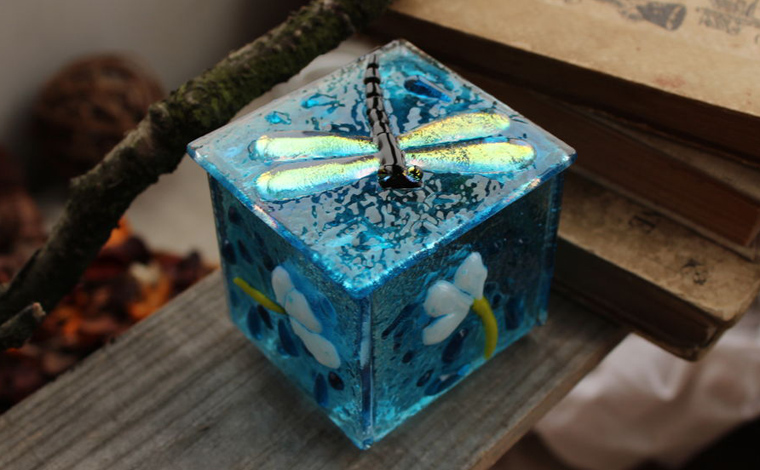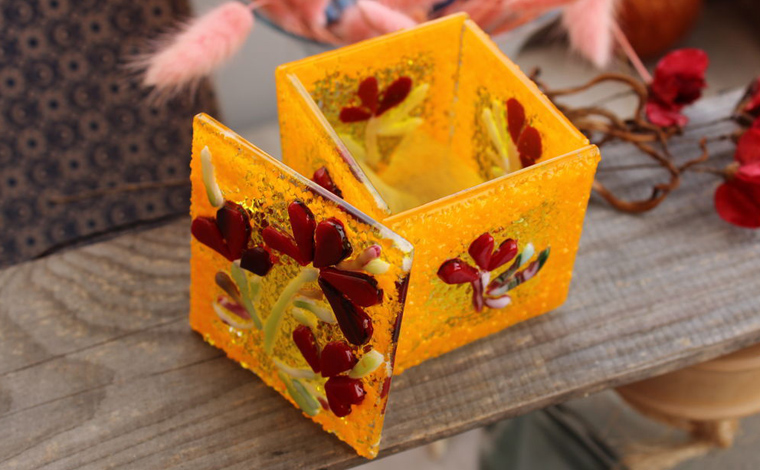 - Do you like to work on an order? What do you remember of the orders the most and why?
I will say this: I'm working on an order. Very fond of corporate wholesale orders. Once invented - and "fuck" on the thumb.
It's hard to make myself sketching on order. Then it is difficult to do something on the sketch - you want something else to add, but this product will change and no longer look like a sketch. And it's wrong. But very much like when the work is ready and get 5+
The last is my favorite - a panel of "horses". Jobs left somewhere in the Urals to collectors around the horse.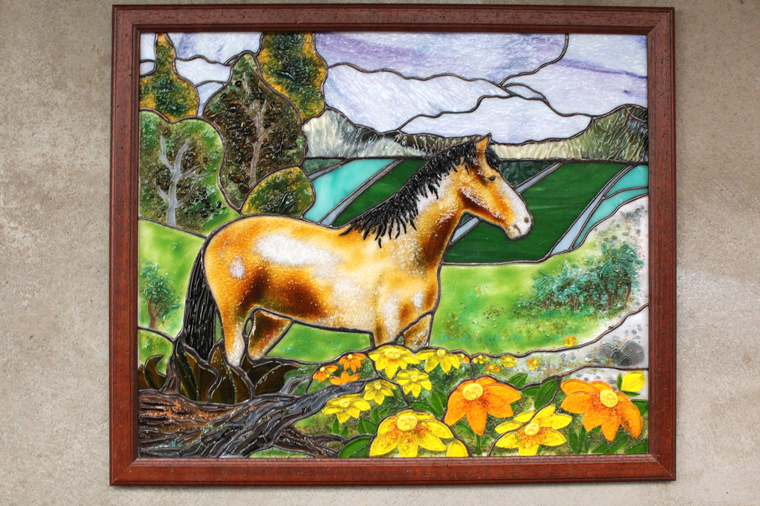 - Tell us about your family, they are also creative personality? How do they relate to your work? How do you like to relax and spend your free time?
- My grandmother was young embroidered satin. It was fabulous job. Unfortunately, nothing has been preserved, and the photo remains. My grandfather could be an artist, but became a turner. Such apparently times were.
In addition, all knit. I used to think that all women should know how to knit. And even myself something there naputyvala from threads on the spokes :)
My first husband did not support my creative endeavors. When I draw, and when I decided to go to university, said that this is nonsense.
Parents support, but was very upset when things are not going, and advised to get somewhere to work. But very proud when there is progress!For example, the exhibition in Finland. Help with money when asked.
Kostya husband supports and helps. Doing something unchallenging - wrap in foil blank, rubs, Patinir. And it is very important (because she can not do this) - meets with customers, call up, running to the shops. But generally he teaches. Gives private lessons in computer science to children.
Son suddenly loved to draw. Goes now to the drawing and painting. They wanted him to bring to our cause, but it is even more lazy than I am.
In the holiday we go to Novosibirsk. And there has to Altai, salt lakes. Another cottage, barbecues, sauna. Here in St. Petersburg go to the Philharmonic, the Mariinsky Theatre, very rarely in the movies or on exhibition. Sometimes decompose - go to the bar to listen to jazz.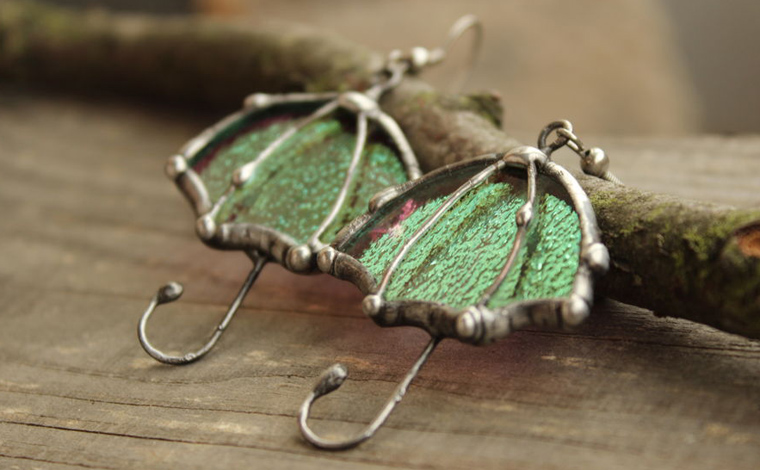 - You seem very positive and happy person! Have you had periods of despondency, when there is no inspiration? What is the best help at this time?
- I love to laugh. The school is deposited me in the back row, so as not to laugh. Because laughing at nonsense and could not hold back. But when Peter came to live in, it was not funny at all. Almost ceased to have fun, it was very difficult to survive. And now everything is normal. It happens and have some fun! I fall into despair from criticism. They say that criticism - good kick to self-improvement. But nothing of the sort!Becomes very sad - because I tried! Besides, I can see my mistakes myself and next time I will consider if it is necessary and possible. Helps recover from work. The main thing is not to stop. If stopped, everything! Prolonged depression is provided.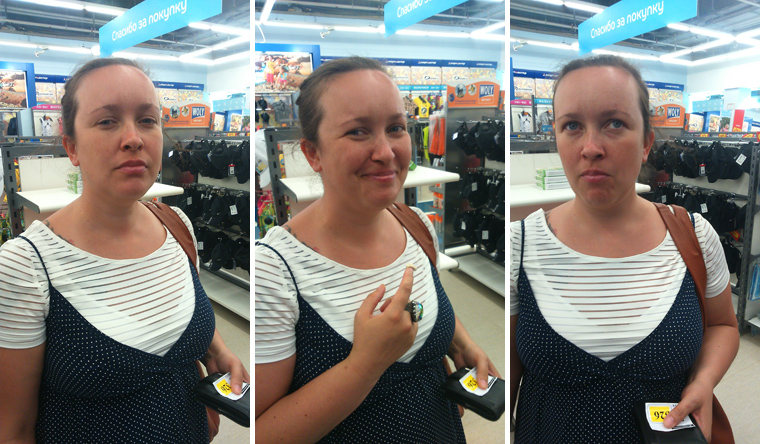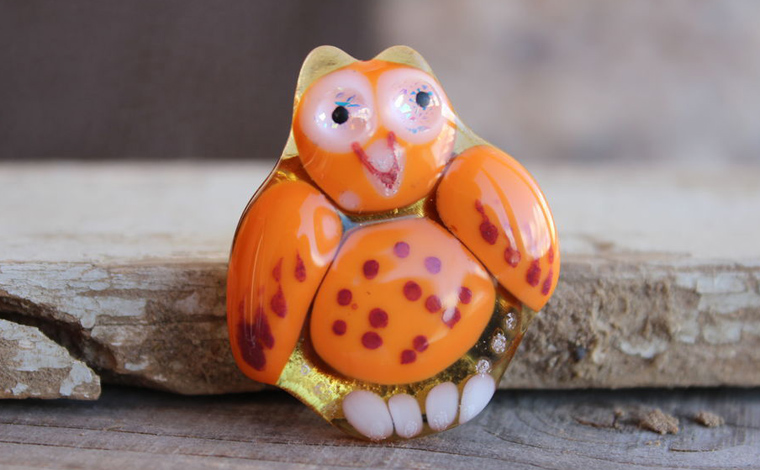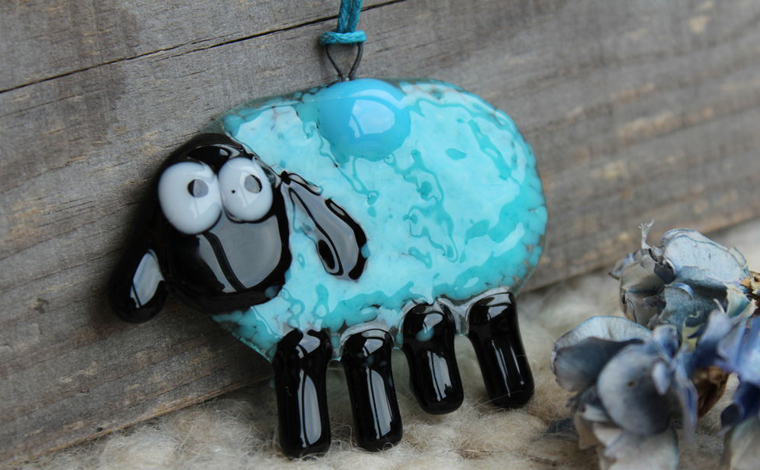 - And the traditional question: if you have a dream in terms of creativity? What advice would you give to those who want to engage in professional and hendmeydom be demanded master? What are the qualities you need to have the need to develop in yourself?
- I have no more dreams and plans. Need to develop. You need to go on glassblowers courses. Then we will gradually buy equipment for the job.Itself no longer cope. Need to hire an assistant (given previous bad experiences). I want to still do a great job - I am sure that with time and so will happen. Maybe it will go on courses jewelers to cast the very basis for the decorations. There is a wizard that makes accessories for lampwork.But fusing nothing resembling met. But this is all after I pass on the right. Force has no foot paddle. Machine for working is necessary.
I believe that if you want to be popular master, you need to constantly invent and learn something new. Constantly! If this doll, then come up with a pattern. And is not that different from konkurentskoy only the distance between the eyes, and really something new. It must be a bomb! If it is made with the soul, if the idea hatched long dreamed of nights, then it will necessarily demanded thing. Well and high quality materials.Required! We should not forget the positive. All with only positive, then everything will turn out. And when such a bomb happened to you, you do not stop and look on, and improve the idea, and has to bear the following. Created the "bomb", the Creator, and a few small "bombochek" simpler, cheaper - for a change. Well camera. Do not eat, drink, go on foot, and buy a camera and learn how to use.
What qualities are needed? Wrote about this a lot. Dedication, positive, faith in yourself and your creativity. Mindfulness, concentration. I am missing something from this list. But I'm working on it or something compensated.
I wish you all success!