What it is:
The Rijksmuseum publication on the collections of the wealthy Six family of Amsterdam
The Good:
To-die-for, drool worthy garments with great dating and provenance. It isn't often that you get to see an almost pristine 1759 wedding dress, or even an 1812 wedding dress, especially where the bride's names and history are known.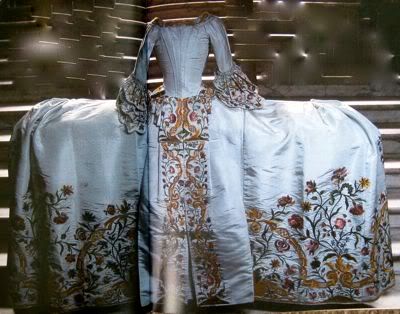 1812 wedding gown
The Bad:
Either the writer just isn't a great writer, or the book has been translated into English with technically accurate but moderately obfuscating results. All of the parts are correct, but somehow the sum is hard to read and doesn't make much sense.
Also, the book is all about the Six family (who had various other last names as well), and some of the kids were named Nine. No, I'm not kidding. I'm sure these are perfectly ordinary and acceptable names in Amsterdam, but I spent some time reading bits of the book trying to figure out who the six [different] families were, and why a nine year old had a wedding dress.
To make the name confusion worse, I'm fairly certain the same people are referred to by different names throughout the book (pet names, full names, married names, initials), so I had to keep referring to the family tree, and I'm still not sure I am clear on who wore what when.
Finally, the images of the garments are too artistic. Garments from different periods are elegantly draped together, or photographed in soft focus, which is great if you want a pretty picture, but not fab for those of us who want to study the garment.
1835 wedding gown in soft focus. Grrrr....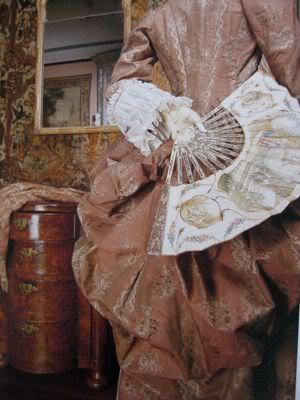 Very artistic, but hard to tell what the rest of the dress looks like!
The really odd, what in the Buggrit Millennium Hand and Shrimp Blazes is going on here?
There are random unclothed people in all (OK, most) of the images. Yes, you read that right. Beautiful historic costumes and people in the altogether. Not even attractive clothes-less people: ordinary wrinkled undressed people.
Don't believe me?
Well: here you go: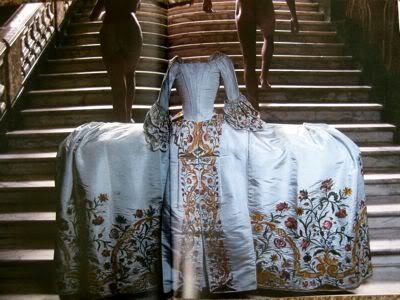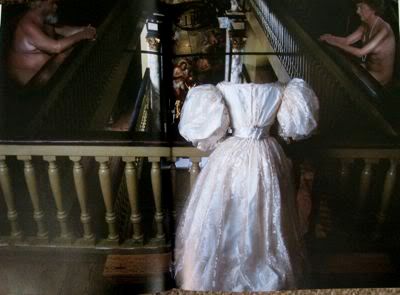 And when there aren't sky-cladders, there are unattractive dogs, or laptops.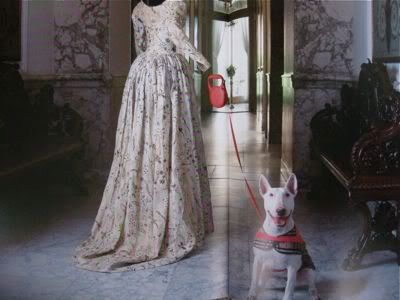 I really hope that images is photoshopped and the dog and costume were never in the same proximity!

The worst part is, there is no indication why anyone thought it was a good idea to have au natural models* interacting with the costumes. What does it mean? I suppose it is ummm…memorable. You aren't likely to forget the dress that was framed by wrinkled old bums.