1960s and later dresses will be coming over the next week or so.
The first 'bought' dress in the collection: a 1930s stunner purchased at the DIC in Wellington.

*Drool* The fabric is a heavy silk charmeuse.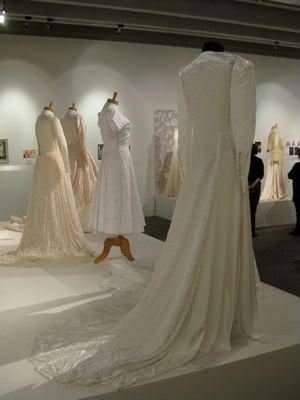 A early 1940s satin gown - the first synthetic gown in the exhibition.
High shine synthetic satin from the front
Details of the amazing diamond pintucking on the train. The diamonds get bigger as they go down the dress, and it would have been done by hand (well, on a machine, but by a seamstress) specifically for this dress.
A parachute silk dress, with a lace bodice made of rayon lace that the groom brought back from Japan after being stationed there. The dress crumples up into a tiny ball and is stored in a large-ish canning jar! (this is not recommended museum practice, but isn't as bad as a lot of the methods that are out there!)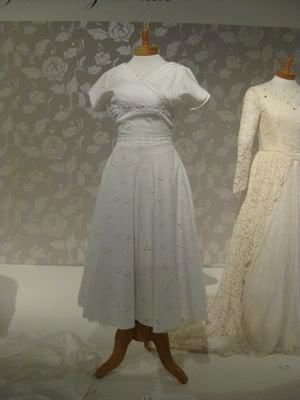 A darling 1950s eyelet cotton dress. The bride's mother wore the hailstone muslin dress
also in the exhibition.
Clearly good taste runs in the family!
A typical uber-romatic lace Medieval princess meets Victorian debutante 1950s wedding dress.